Map of cities, small towns and areas in Lane County
From the upper reaches of the McKenzie River Valley to the beauiful shores of the Oregon Coast.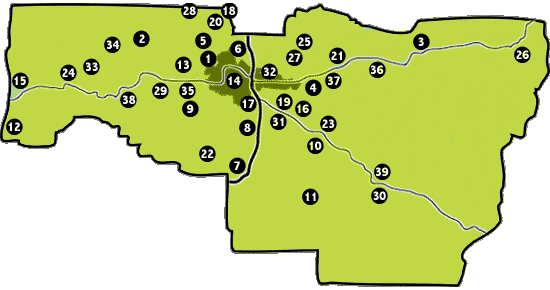 Lane County Information
Cities, small towns and areas


1.Alvadore Oregon
With the Fern Ridge Reservoir and Orchard Point Park within a mile of Alvadore, it's not surprising that boating and fishing are two of the most popular recreational activities here. The town was originally formed around a branch of an early railroad. Today the area is part bedroom community for Eugene commuters, and part farm town, supporting the local grass seed farms and commercial plant nurseries. Situated just 10 miles west of Eugene, yet with very little commercial development, Alvadore has a real country feel to it.
2.Blachly Oregon
Just up the road from beautiful Triangle Lake, Blachly is a close knit community of friends and neighbors. The town is located 35 miles west of Eugene, in the heart of the heavily forested Oregon Coast Range between Junction City and Florence.
3.Blue River Oregon
If you follow the crystal clear waters of the McKenzie River as it heads into the Cascade Mountains, you will come across Blue River, approximately one hour east of Eugene. Blue River is a fisherman's paradise. Along with the river, there are two large lakes within minutes of Blue River, Cougar Reservoir and Blue River Reservoir
4. Cedar Flats Oregon
Just 20 minutes west of Eugene in the McKenzie River Valley, Cedar Flats is a quiet and safe place to raise family, yet still close enough to the Eugene/Springfield area to be convenient for commuting and shopping.
5. Cheshire Oregon
Nestled along the banks of the Long Tom River, amid fields of tall grass, vineyards and Christmas tree farms is Cheshire, Oregon. The wide open spaces around Cheshire gives one a feeling that here, finally, is a place with some room to breathe.
6. Coburg Oregon
At the base of the Coburg hills lies the lovely little town of Coburg, which is just north of Eugene. Antique and gift shops and other historic homes and buildings populate the heart of downtown, which has been recognized as a National Historic District. Another attractive feature of Coburg is that it has been included in Eugene's 4J school district. This allows the residents of this quiet rural town to ensure their children get a high quality education.
7. Cottage Grove Oregon
Known as "The Covered Bridge Capital of Oregon", Cottage Grove is located about 20 miles south of Eugene. With a population of around 8,500, Cottage Grove is big enough to have a decent selection of grocery stores, restaurants, and other essential services such as mechanics and doctors. The area is rich in local history, as well as recreational opportunities such as biking, hiking, water skiing and fishing.
8. Creswell Oregon
Creswell, the Friendly City, is located 10 miles south of Eugene along Highway 99 and Interstate 5. This turns out to be a great location for commuters, as the trip to Eugene takes just over 10 minutes. As a result, there are quite a few newer homes available Creswell.
9. Crow Oregon
Surrounded by family farms, dairies, and the tree covered hills of the coast range, is the town of Crow. Located about 30 minutes southwest of the Eugene area, Crow has escaped the recent growth experienced by the nearby town of Veneta about 5 miles to the north.
10. Dexter Oregon
Situated on the shores of Dexter Reservoir, the town of Dexter is only 20 minutes away from the Eugene/Springfield area. Just across Highway 58 is Dexter Reservoir State Park, which features a boat ramp, picnic areas, and a disc golf course.
11. Dorena Oregon
Located at the top of Dorena Reservoir, the town of Dorena is situated as the gateway to the beautiful Brice Creek Recreation Area. Brice Creek is incredibly scenic, with crystal clear waters cascading over sculpted boulders, all surrounded by towering old growth fir trees.
12. Dunes City Oregon
Just south of Florence, also on the Oregon Coast is Dunes City. With numerous parks and lakes nearby this is a popular recreation area for fishing, camping and ATV riding.
13. Elmira Oregon
Located 15 miles west of Eugene, and one mile north of Veneta, the town of Elmira sits along the western shore of Fern Ridge Lake. Set amidst oak forests and rolling hills, Elmira is an ideal bedroom community for those looking for close-in country.
14. Eugene Oregon
The city of Eugene, in Lane County, prides itself as being one of the most livable cities in the United States. It was just determined that Eugene, Oregon is the 7th most livable city in the U.S. Eugene, known as Tracktown USA and the Emerald City, is the second largest city in the state with a metropolitan population of over 225,000 people.
Eugene contains areas such as; Oakway, University of Oregon, South Eugene, Bethel Danebo, River Road and Santa Clara.
15. Florence Oregon
Located about 60 miles west of Eugene at the mouth of the Siuslaw river along the Oregon coast is the city of Florence. With a population of about 7400, Florence is quite popular with retirees seeking a quiet, relaxed way of life, along with a surprisingly mild climate and plenty of outdoor recreational opportunities. Since Florence does not have a large employment base and it's a bit too far to commute to Eugene for work, this could explain the large percentage of retirees in the area.
16. Fall Creek Oregon
Just minutes east of Springfield is the Fall Creek area. Very conveniently located, Fall Creek has surprisingly seen little recent development. As a result of this, the area retains it's sense of connection to the past with several covered bridges in the area and a number of historic homesteads still standing.
17. Goshen Oregon
Originally a stage coach stop, later it was a train depot, today Goshen sits at the crossroads of 3 major highways. Highway 58 begins it's traverse of the Cascade Range here, Highway 99 also passes through town as it merges with I-5. Goshen is 3 miles away from the Howard Buford Recreation Area and Mount Pisgah Arboretum, and a short 5 miles from the Eugene/Springfield area.
18. Harrisburg Oregon
Sitting just across the Willamette River from Junction City, and about 15 miles north of Eugene, is Harrisburg. Although the town has a long history of agriculture, as it is surrounded by the fertile farm lands of the southern Willamette Valley, the local job base has been boosted by several luxury motor coach manufacturers situated in and around Harrisburg.
19. Jasper Oregon
Not much more than a stone's throw from east Springfield is Jasper, Oregon. Sited along the banks of the Middle Fork of the Willamette River, Jasper is home to the wonderful Jasper State Park, a great place for games, picnics, fishing, hiking, and horseback riding.
20. Junction City Oregon
Just fifteen minutes north of Eugene, Junction City is a world away. It's a quiet, self contained community with it's own school district, police force, and a volunteer fire department. While the town offers many modern features along Highway 99, other areas of Junction City retain the feel of a bygone era, with many historic homes and structures still remaining in excellent condition.
21. Leaburg Oregon
Tucked in between the fir trees of the Cascade foothills and the cool waters of Leaburg Lake, is the town of Leaburg, Oregon. Located along Highway 126 about 30 minutes east of Eugene, Leaburg is also home to Water Board Park, a trout hatchery, and the historic Leaburg Dam.
22. Lorane Oregon
Lorane is set among the rolling hills and forests 22 miles southwest of Eugene is the historic little town of Lorane. Originally settled by homesteaders who raised livestock, tended fruit orchards, and harvested timber, the area is now a popular destination for wine tasting tours, as there are a number of well known wineries nearby.
23. Lowell Oregon
Originally settled in 1852, Lowell, also known as the Town of a Thousand Sunsets, is a fairly new small city located approximately 20 miles southeast of Eugene. The city and its surrounding areas are rich in natural and recreational resources, making it a highly livable community. Over the years, the city has sought to maintain its viability as an attractive residential community with a limited local employment base.
24. Mapleton Oregon
Straddling the Siuslaw River 46 miles west of Eugene at the junction of Highways 36 and 126. Lush vegetation and steep hillsides give Mapleton a cozy feel. Plus you're only 15 miles from the beaches and dunes of the Oregon coast.
25. Marcola Oregon
12 miles north of Springfield, along the clear running Mohawk River is the community of Marcola. The Mohawk is a beautiful river, which is why it's no surprise that it is quite popular with drift boaters and fly fisherman.
26. McKenzie Bridge Oregon
Approximately one hour east of Eugene lies the community of McKenzie Bridge. A fisherman's paradise, residents have their choice of two large lakes within minutes of town, Cougar Reservoir and Blue River Reservoir.
27. Mohawk Oregon
Neighbors with Marcola, Mohawk shares the lovely Mohawk River and valley of the same name.
28. Monroe Oregon
At the southwestern edge of the wide and bountiful Willamette Valley, Monroe is just 20 minutes north of Eugene, and 30 minutes south of the college town of Corvallis, Oregon. Monroe has it's own schools and police force. The town boasts a golf course, and several excellent local wineries are situated in the foothills nearby.
29. Noti Oregon
Noti was once known to most as a wayside along Highway 126 en route to the Oregon coast. A recently completed section of highway now bypasses Noti's main street, making life here much more peaceful than it once was. Although some residents of Noti find employment at one of several nearby lumber processing facilities, many make the short commute into the Eugene/Springfield metro area for work each day.
30. Oakridge Oregon
Known as the Tree Planting Capital of the World, Oakridge can be found by traveling 45 miles east of Eugene along Highway 58. A gateway to the high country wilderness and ski areas of Willamette Pass, Oakridge is also becoming a popular bedroom community for the Eugene/Springfield area. Lesser know to most is the fact that Oakridge is considered to be one of America's premier areas for mountain bike riding.
31.Pleasant Hill Oregon
In an idyllic setting of rolling hills, waving grasses, oak savanna, and towering firs sits the town of Pleasant Hill. A great location for commuters, as it is located along Highway 58 just minutes from Eugene and Springfield. Pleasant Hill remains largely unaffected by urban sprawl and new development.
32. Springfield Oregon
Eugene's neighbor is the city of Springfield, Oregon and is best known as the gateway to the beautiful and scenic McKenzie River Valley. The forward thinking residents of this bustling and growing community has had their eye on attracting business and industry worldwide.
33. Swisshome Oregon
Swisshome is located along the banks of the Siuslaw River about 45 miles west of Eugene in the Oregon Coast Range. Too far for commuting, with no tourists attractions nearby, Swisshome has a quiet, relaxed, out of the way feel that is very attractive.
34. Triangle Lake Oregon
Set deep in the heart of the emerald forests of Oregon's Coast Range is the tiny lakeside hamlet of Triangle Lake. While the town is only about 35 miles west of Eugene, it takes about an hour to make the drive due to the twisting, yet scenic mountain roads which must be taken to get here.
35. Veneta Oregon
Veneta, located in the foothills of the Coast Range, is just 10 miles west of Eugene. Well within an easy commute, with plenty of buildable land available, Veneta has tremendous potential for future growth. Recreational opportunities abound with Fern Ridge Reservoir just minutes to the east, thousands of acres of national forest to the west, and the towering dunes of the Oregon coast just 45 minutes away.
36. Vida Oregon
30 miles east of Eugene, in the stunningly beautiful McKenzie River Valley is the town of Vida. The area is home to Tokatee Golf Club, considered to be one of Oregon's best public golf courses. Surrounded by wooded hillsides, with the sun dappled river partly shaded by mature forests, Vida would be an ideal place for the avid golfer or fly fisherman to settle down.
37. Walterville Oregon
Just ten miles from Eugene, and six miles east of Springfield is the town of Walterville, Oregon. Recreational activities include hiking, fishing, drift boating, walking, whitewater rafting and more. Walterville is just up the road from Hendricks Bridge Park, which is a great place for a riverside picnic.
38. Walton Oregon

While Walton may be about 45 minutes west of Eugene, commuting is not out of the question since this community is located along the smooth and well maintained state Highway 126. Walton lies in the midst of the vast Fir forests of the Oregon Coast Range.
39. Westfir Oregon
Westfir is a small mountain community situated along the banks of the North Fork of the Middle Fork of the Willamette River. Westfir was originally built as a logging town in 1923. The area is now a haven for outdoor recreation such as fishing, hunting, hiking, and camping. In the hills above town lie some of the best mountain bike trails in the nation. Westfir is also home to the Office Bridge, a unique covered bridge which once linked the lumber mill to it's office. Westfir is located 40 miles southeast of Eugene and Springfield Oregon, and is just 4 miles from Oakridge.